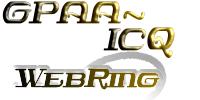 Thank you for wanting to join our webring. Our webring is to show the amout of gold prospectors ther are out there.
When joing our ring all you have to do is fill out the form add the html fragment that is included in your email and wait to see if you are accepted into the ring.
---
This is what it will look like:
---
For Ring Members ONLY!
If you have a site in my WebRing and need to edit your site information (URL, site name, description, keywords, password), you may do so by entering your site ID and password below. (Forget your password? Just leave it blank and you will be given the option to have it e-mailed to you.)
---