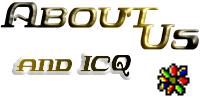 This homepage is made for gold prospectors and ICQ members over the World and WWW. It was to bring all gold prospectors on the web to join at this web site to tell and post stories to everyone, show pictures of their new finds and much more. If you have a wonderful story, pic, or just want to chat about gold, all you have to do is join our list of members, which is free, it's that easy.


Click the button above to become a member of our GPAA-ICQ Club.

Click the button above to Learn what ICQ is and why we use it. You can also download ICQ from our site!


Click the button above to Edit your info and or password.


Click here to view our Member List and get their info.

Yes, we have a webring. If you are a member and you have a homepage you can join our webring.